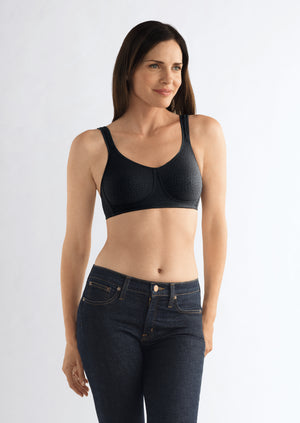 Limited time
Silhouette promotion
Buy 1 mastectomy bra get 35% off a 2nd mastectomy bra When you purchase a breast prosthesis
Shop Mastectomy Bras
Silhouette Mastectomy

Silhouette Mastectomy in South Surrey, BC provides the highest quality prostheses from Amoena Canada, which can restore your breasts to their former shape. If you've had any type of mastectomy procedure, and your incisions are healed, we welcome you to discover the Silhouette experience. Also order online as we ship across Canada!
Mastectomy prosthetics are precision designed to blend seamlessly with your chest and our prosthetics are available in all cup sizes, including plus sizes. Additionally, prosthetics are available in a wide variety of shapes, to fill shallow or deep depressions, and restore all surgical sites.
Free in Store Professional Fittings
We excel at providing a caring and personalized figure restoration experience for all breast cancer survivors from full mastectomies, partial mastectomies, lumpectomies to breast reconstructions. Our professional fitters have extensive training from our suppliers Amoena Canada and ABC, to ensure that you receive an optimal and comfortable fitting. Due to the complexities of fitting, we encourage you to come visit us to be properly fitted in South Surrey. If you are not quite ready for a fitting, we can help you with a
post surgical bra
and a light leisure "puff" to give you some shape while you're still healing.
Click to read more about our free breast form fitting services here..
Privacy, Care and Comfort
Our dedicated fitting room was specially built with privacy and comfort in mind. It contains a full complement of breast forms and prosthetics that we use to regain your figure. Set up an appointment and start feeling confident again! Call Fiona and her team at:
(604) 541-1007
Silhouette Mastectomy is registered with BC Fair Pharmacare -
Click Here for More Info: Pharmacare & Mastectomy Coverage.
---
8 products